Our Head Chef and his team have devised an enticing Menu for you to enjoy with your special someone on Valentine's Day!
We will be serving our 3 Course special Valentine Dinner on Friday 14th and Saturday 15th February evening, so our usual A La Carte Menu will be unavailable.
Bookings are being taken now, and a £15 per head deposit is required to confirm your booking.
Please take time to read through our Terms and Conditions for booking your table so you are aware of our policies regarding the procedure and how to pay your deposit.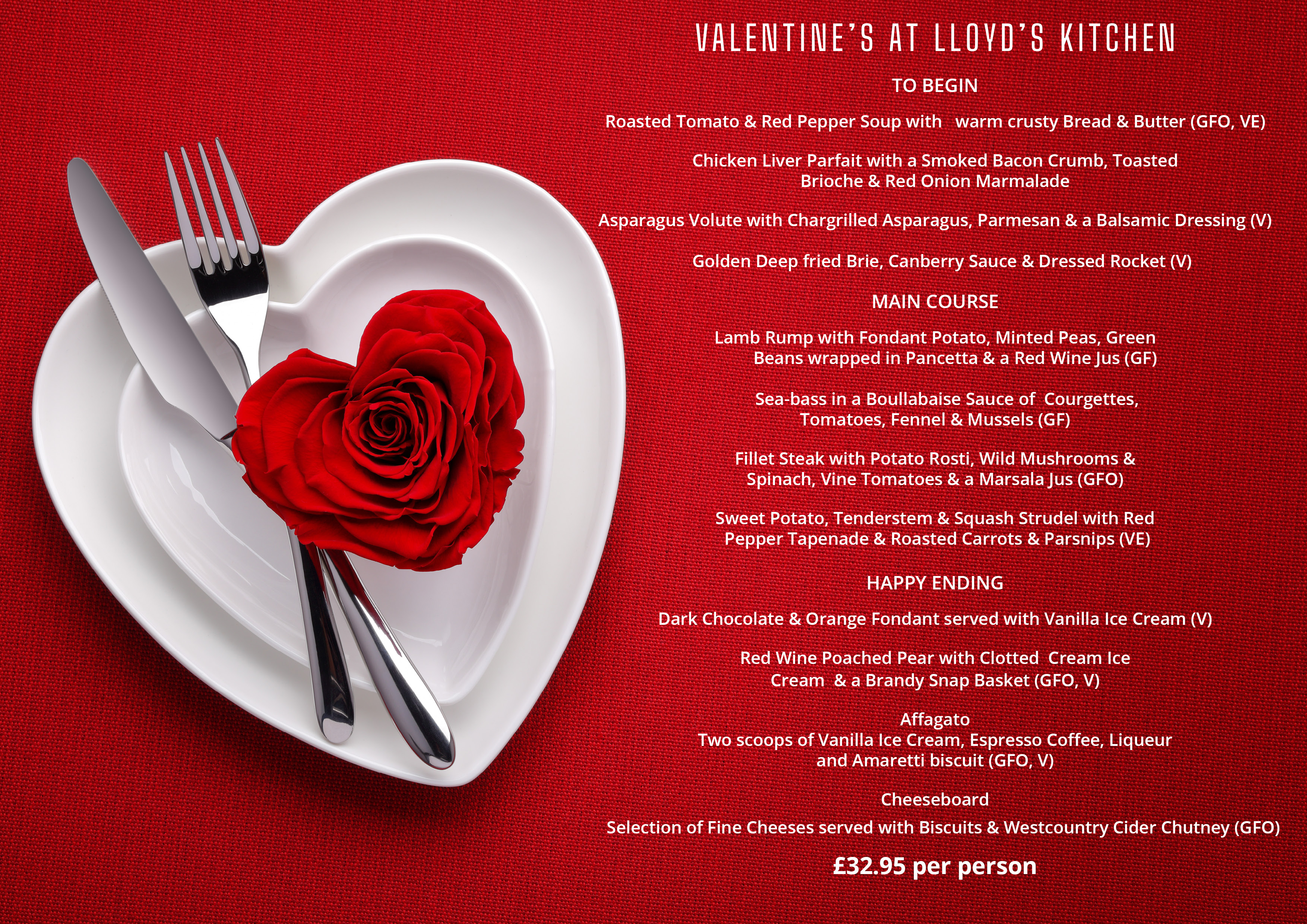 Booking Terms & Conditions
Booking Process :
You can make your Booking either by telephoning the restaurant on 01392 - 499333 or online at www.lloydskitchen.co.uk/book-table. If you wish to make a booking by telephone & the answerphone machine is on, please leave a clear message with your name and mobile number and we will get back to you to discuss your booking request.
Once you have made your initial booking, we will send you a link which will allow you to pay a deposit of £15 per person to secure and confirm your booking.
Once we have received your deposit you will immediately receive an e mail confirmation of your booking and the amount of the deposit you have paid.
ONLY when we have received your deposit is your booking secure and your e mail will be confirmation of your booking, so please keep this safe.
Unless you have received an e mail confirmation of your booking and the deposit payment, then we cannot guarantee you a table.
Cancellation Policy :
Bookings can be cancelled up to 48 hours in advance - at which time your deposit will be refunded in full. In order to formalise your cancellation, you must make your cancellation by e mail to eat@lloydskitchen.co.uk. We will not take cancellations by telephone or verbally. Unless there is an e mail record of your cancellation 48 hours in advance your deposit will not be refunded & is not transferable against your bill.
Booking Times :
In order that we can give everyone a fantastic evening at Lloyds Kitchen, we respectfully ask that you arrive promptly. In the event you are late, your table will be held for up to 15 minutes past your reservation time and unless we hear from you, we reserve the right to release your table and your deposit will not be refunded unless we can provide you with another table.
Dietary Requirements:
If you have any special Dietary requirements, please advise us by email to eat@lloydskitchen.co.uk at least 72 hours in advance of your booking. We will be unable to accommodate any special Dietary requirement on the night, unless you have advised us previously by email.